Introducing TEMPO by Tecnifibre, a groundbreaking tennis racquet designed exclusively for female players. In a sport where women have historically used racquets designed for men, TEMPO aims to revolutionize the game by offering a racquet specifically tailored to the unique needs and physiology of female athletes. With meticulous attention to detail, TEMPO provides the perfect blend of maneuverability, power, and balance, empowering women to elevate their performance on the court. This innovative approach challenges the norm, ensuring that female players have the tools they need to excel and thrive in the world of tennis.
Introducing Tecnifibre TEMPO: Tennis Racquet Designed for Female Players
Tecnifibre has designed a tennis racquet exclusively for female players, revolutionizing the world of tennis. Laurent Blary, Products Manager at Tecnifibre, explains in detail:
"It is all based on a simple fact: today, women, who account for 30% of the worldwide tennis population (50% in some markets), play with rackets designed for men. And everyone finds this normal.

If you think about it, it isn't normal at all! In other sports, such as golf or skiing, material specifically adapted to the physiology of the player has been around for decades.

To put a stop to this inconsistency, we decided to develop this new TEMPO range."
How TEMPO is Adapted to Women
Tecnifibre worked on the structure of the racket first, rather than the cosmetics. TEMPO tennis rackets take into consideration the morphology (body shape) of the female player to propose the right, adapted material. This translates into a racquet that is shorter for increased maneuverability, with a similar weight and better balance to enhance power.
Player Success with TEMPO
When WTA Tour player Daria Kasatina switched to the Tecnifibre Tempo racquet, her career results improved significantly:
Quarter-finals at the Olympics at 18 years old
Winner at Charleston, her first WTA title, at 19
First victory against a ranked #1 player in the world (Kerber) at 19
First final in a Premier Mandatory Event (Indian Wells) at 20
Victories against all the 2017/2018 Grand Slam winners on the Tour, showcasing her ability to elevate her game in tough matches
Iga Swiantek and the Iga Tempo 298 Tennis Racquet
WTA revelation and winner of the French Open in 2020, Iga Swiatek, joined the Tecnifibre team in January 2021. She tested, selected, and signed her name to the Tempo 298 tennis racket, designed to provide speed and controlled power to demanding female tennis players.
The "eli-square" frame section of the racquet offers a good compromise of power and control. It is complemented by XTC fibre inserts, polyester, and aluminum filaments to disperse shock at ball impact and promote better feel. The Iga Tempo 298 tennis racket has been custom-developed, with all technical characteristics (weight 298g, headsize 630cm², balance 320mm, grip, etc.) optimized on the court to achieve the perfect swing speed in all situations. Iga also personalized the cosmetics of the product with a glossy finish and signed the frame for approval.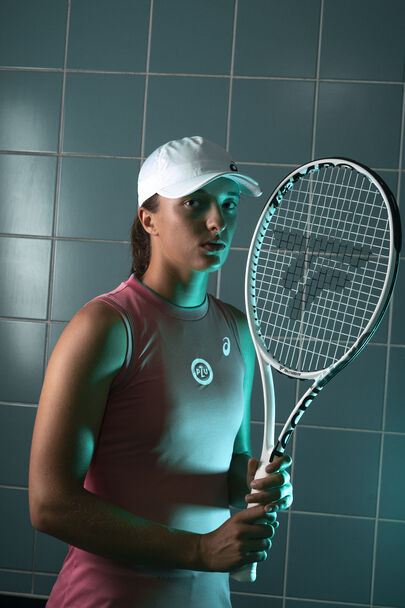 Conclusion
In conclusion, TEMPO by Tecnifibre is a groundbreaking tennis racquet designed exclusively for female players, setting a new standard of excellence in the sport. By recognizing the unique needs and physiology of female athletes, TEMPO provides a game-changing advantage on the court. With its focus on functionality, maneuverability, and power, TEMPO challenges the status quo, revolutionizing the way women play tennis.

By embracing TEMPO, female players can experience a truly customized and empowering tennis experience. Tecnifibre's commitment to inclusivity and performance shines through in every aspect of TEMPO, from its tailored design to its remarkable impact on players' careers. With TEMPO, women can unleash their full potential and redefine the boundaries of success in tennis. It's time to join the TEMPO revolution and take your game to new heights.
Do you believe that tennis equipment specifically tailored to the physiology of female athletes can make a significant difference in their performance? Please let us know in your comments below!